Is it possible to write yourself out of a blocked situation and into your own fantasies?
VENUS SATURN SQUARE took corporeal form on Palm Sunday 2019. It debuted IRL at the Philly leg of Hot Bits queer xxx film festival on April 26th & 27th at Lightbox Film Center, and later had its own noteworthy release party at Vox Populi gallery on September 21st. It phases in and out of print at the cyborg memoirs distro as of this posting, and can be downloaded in reading or booklet form (15 sheets of paper) as of August 29th, 2020.
VENUS SATURN SQUARE is a freshly shorn smut zine attempting to straddle a nebulous rift between fandom kink, queer cruising, and BDSM scenes.
VSS hopes to become a vehicle centering people who find themselves stuck, conflicted, in denial, or self-sabotaging of their own desires.
VSS features six smut stories by fledgling and experienced writers, for your reading satisfaction. We recommend reading the stories outloud.
VSS includes a desire practice worksheet to work through your own hang-ups.
CONTENTS
• Scorpio for Scorpio by Evie Snax
• Pits by L. Corn
• an illustration by Joe Hatton
• Heavy Prosthetic by Magus Monk
• ALUMINUM TONGUE [an excerpt from The Body Remembers] by Blake P.
• The Violet Island by Malachi Lily
• Synaesthetic Sex by Fatherfucker
• Desire Practice Worksheet
• Contributor bio + Contact info
"This aspect sometimes means unhealthy sensuality. They are hard, and do not know how to express their emotions. They are frightened of showing their love, and this leads to disappointments, break-ups, lack of satisfaction. It is likely that they had problems with their mother, who did not know how to love them or give them self-confidence. They doubt, are suspicious and jealous. They will learn how to be happy in love, to be at ease with themself and to control their jealousy in the second half of their life, thanks to an older person, who gives their self-confidence back to their, so they can then trust others."

– AstroCafe birthchart reading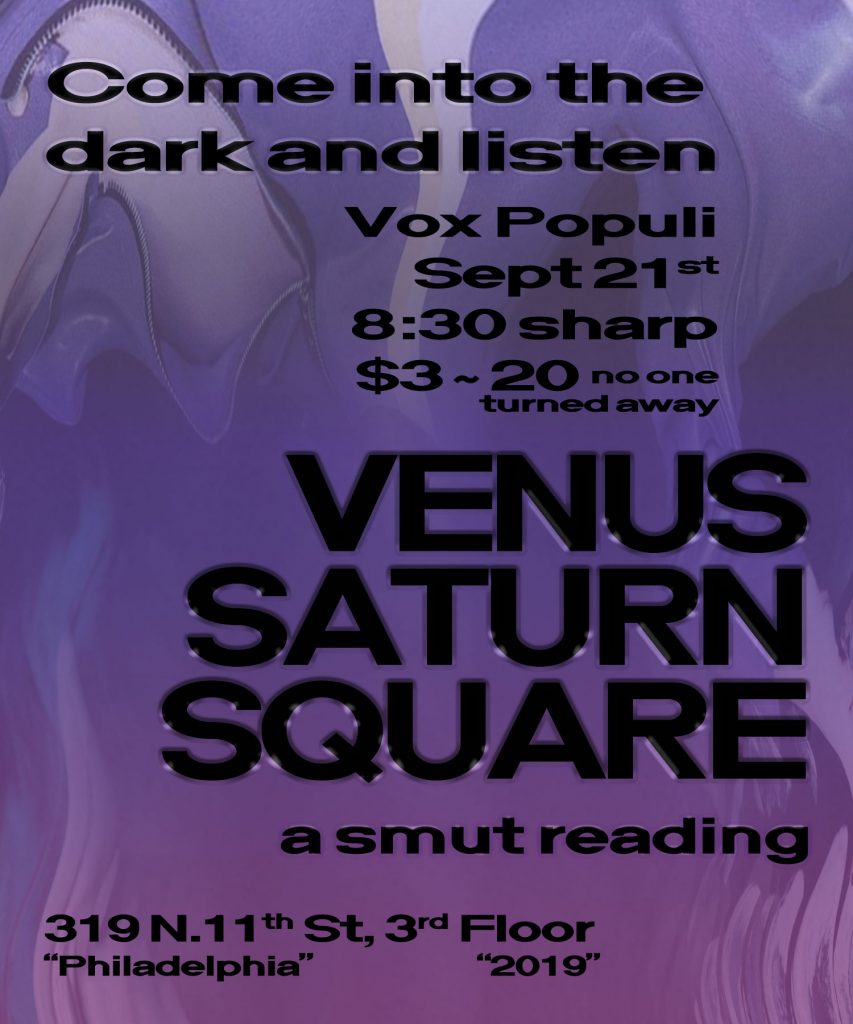 SEPT 21st /8pm~11pm/ ~ Enter into the dark and listen at the official release soirée for VENUS SATURN SQUARE. This trans-centered erotic zine unfurls from its printed confines for an evening to thrill and confound desires. Come ready to lurk-xuriate in low lighting and heavy listening. Listening masks and phone check will be on offer for a low-distraction experience, along with glow bracelets for anyone who'd rather not talk.

– from original event announcement